Homelet's annual rental index has arrived – what picture does it paint of the UK's rental landscape for the year up until May 2021?
Rental yields rose 6.4% year-on-year across the UK (excluding Greater London), jumping to £854 while annual growth continues to drag in the city.
Which regions saw the highest levels of growth?
The South West has benefited from the exodus of Londoners leaving the city centre in search of lower living costs and larger living spaces, driving an 8.4% YOY increase – the most significant uplift across the country.
Areas in the North have also seen healthy increases across the board and are likely to continue to do so as cities such as Sheffield and Hull begin to benefit from hefty regeneration investments as a part of the governments Northern Powerhouse plans.
Manchester, Liverpool and Nottingham now appear on property investors' lists of cities with the highest rental yield opportunity as vacancy rates remain low and demand continues to rise in these cities with a high population of renters.
Liverpool, a city where property is typically cheap to purchase with average prices of £186,000 will soon start to benefit from the £5.5bn Liverpool Waters scheme designed to revitalise the city and create 17,000 new jobs. This is likely to tip the supply and demand scales in favour of Landlords and drive rental yields even further.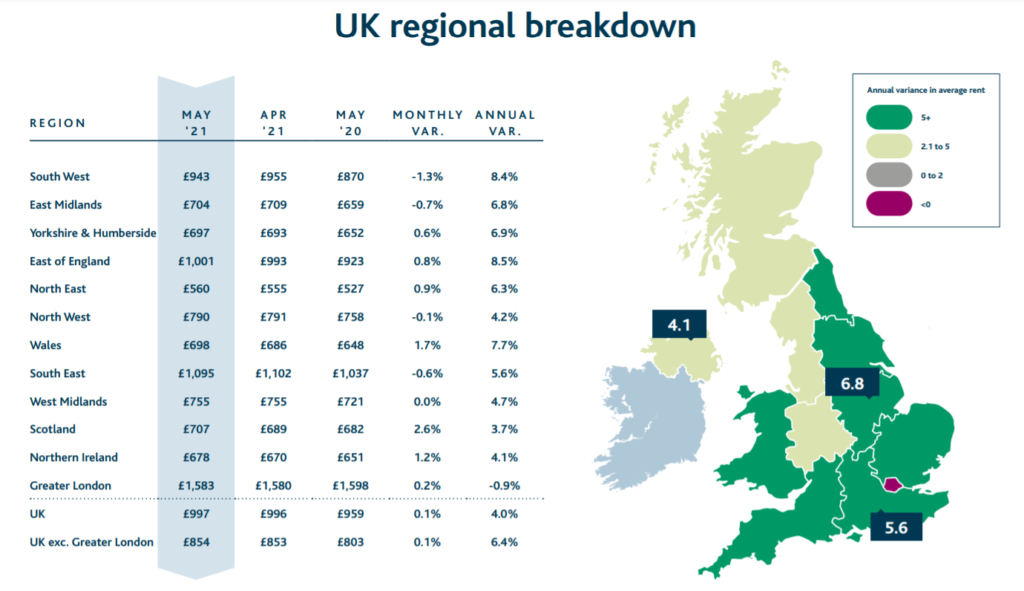 What is the story in the capital?
Greater London saw an overall fall in rental yields YOY by just under 1% due to a fall in demand as homeworking enabled residents to emigrate from the city during the pandemic.
Areas with the highest average rents such as Westminster and Hammersmith where properties command eyewatering rents on average of £2,183 and £1,920 respectively have seen monumental decreases in growth of 15% & 12%.
Areas to rent in London on the lower end of the spectrum such as Barking and Dagenham, where you can pick up a property for an average of £1,322 have seen healthy rental yield growth of just under 10%. However, growth in these areas weren't able to compensate for the backward growth in London's priciest boroughs.
On the data in the report, Andy Halstead, HomeLet & Let Alliance Chief Executive Officer said "The overwhelming success of the vaccination drive brings hope that returning to some form of normality could be on the horizon. We would still caution that millions could be made unemployed at the end of the furlough scheme – posing considerable problems in tandem with an unbalanced rental market. Whilst the Government looks to stimulate homeownership, the importance of the private rented sector can't be understated and should not be overlooked."